In the current environment, every institution or company needs protection in all areas of their buildings, making CCTV cameras essential. Every organization prefers to install a CCTV camera in their building, including offices, schools, colleges, and even households. The need for CCTV cameras is growing, and technology is keeping up with that. From analog CCTV cameras to IP-based CCTV cameras, there are many different CCTV cameras that may be bought. You might wish to choose wisely from all the options available based on the requirements and financial constraints of your company. We have outlined the key distinctions between an analog and IP-based CCTV camera in detail for this reason.
The Difference Between Analog vs IP-Based CCTV Cameras
The technique through which they record and distribute video is the primary distinction between IP-Based CCTV Cameras and Analog CCTV Cameras. Analog cameras transmit a signal to the digital video recorder through a coaxial connection. The DVR then compresses the video file, converts the analog video signals to digital signals, and stores it on the storage device. Additionally, monitors are connected to receive the video output. To transmit the video over the internet, the DVR can also be linked to a network.
IP-Based CCTV Cameras, on the other hand, digitally record the images. Instead of using a DVR, they can send and receive the data straight from and to the computer network. Some cameras even use POE-switches to operate, which transfer the data and power simultaneously. CCTV cameras that are IP-based and analog both have advantages. What kind of camera would be adequate for your security and surveillance needs depends on your requirements and budget.
Advantages of Analog CCTV Cameras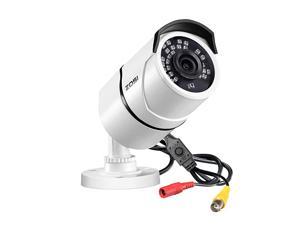 An analog CCTV camera has a number of benefits, which continues to influence many people's decisions. Here is a list of a few of them:
Analog Cameras are much cost-friendlier as compared to their digital counterparts on a per camera basis. They are easy to set up. The installation process is much straightforward and doesn't require exquisite technical training to install an Analog CCTV Camera. The video recorded by an Analog CCTV Camera are much smaller in size. They are transmitted to the DVR through a coaxial cable instead of LAN. So transmission also doesn't cost much bandwidth. On the other hand, DVRs only transmit the information and use the bandwidth when someone is watching the video instead of on a more constant basis.
Advantages of IP-Based CCTV Cameras
Having a digital CCTV camera instead of an analog one has a number of advantages. These are only a few of them.
Image Quality
IP-Based CCTV Cameras have much better image quality than Analog CCTV Cameras. Multiple IP-Based CCTV Cameras are capable of transmitting high definition videos. These cameras also utilize the digital zoom feature, enabling users to view minute details in the video with the highest level of clarity.
Broad Coverage
Compared to analog cameras, IP-based CCTV cameras have a significantly wider area of coverage. Therefore, with IP cameras, fewer units may be needed to cover a bigger area.
Less Cables Required
The IP-Based CCTV Cameras use far less wires than Analog Cameras do. In the case of digital cameras, a switch can be used to link many units to one another, and the switch is then connected to the NVR using a single cable. One wire is used to transfer both data and electricity.
Power Over Ethernet capability
One cable can be used to transmit both power and data instead of requiring two separate connections. Two wires are not necessary because Power Over Ethernet switches allow your signal cables to send power as well.
Ability to remotely see live feed
IP-based cameras, as opposed to analog CCTV cameras, allow users to view the live video remotely from any place. Unlike their analog cousins, they are resistant to interference.
Encryption
Since all of the videos sent by IP-Based Cameras are encrypted, they are impervious to data theft and cybercrime. Encryption is generally included into digital cameras so that users don't have to worry about their data being abused.
Mitobi integrated services (Partnered with Zkteco, Hikvision, Uniview, Hilook, Dahua) Provides the best quality and affordable Analog and IP Based cctv cameras. Your safety is our priority.